Story and photos by Paul Scorza
   
My wife (and kids) think I am nuts.
My "fleet" ranges from 10-14 boats depending on when you catch me.  I have loved boats since I was a little kid.  Below is a pic of a 1960 Glasspar, owned by family friends, in 1969 with me riding in it on the Hudson River in Red Hook, NY.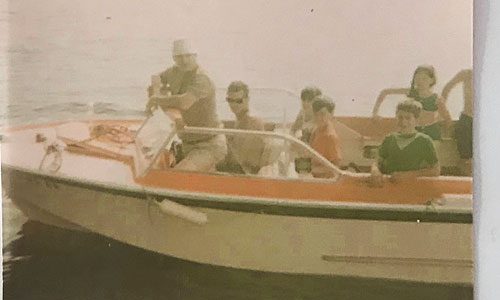 I loved boats then as I do now, and boats from that time period hold a special place in my heart.  Hence the reason all the boats I buy and restore are from those years of growing up on the river. 
My first restoration was when I graduated from college and wanted my own boat.  I loved Sea Rays from when we used to visit lake George every summer and the lake was full of them.  I found a 1970 Sea Ray, 24ft cuddly full of tomato plants in a field.  I bought it and proceeded to restore it over the next 9 months.  I used it for a few years and then traded it for a newer boat.  We then always had a family boat for the wife and kids.

My next restoration was many years later when my dad passed away and I needed something to keep busy.  He loved Chris Crafts, so I figured why not find one that needs restoring and take it from there.  I restored a 22ft 1955 Continental which I still have and will always have.  I named it after my dad.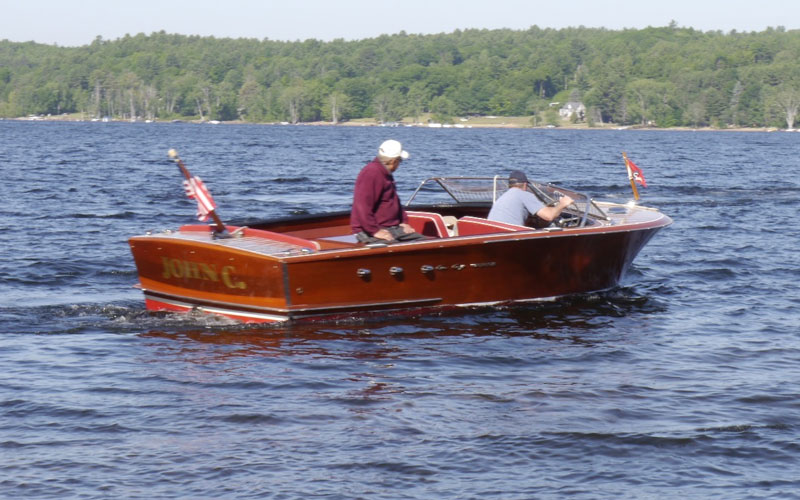 Next, I actually found that exact yellow boat in the picture below from 1969 rotting away in an owner's backyard and offered to buy it.  I restored it and still have it.  That really got me going on finding old boats and bringing them back to life.  Sometimes I sell a few of them, but mostly I have my favorites and keep them.  They have to be seaworthy and run, as every one of my boats goes out for a cruise at least a few times a year.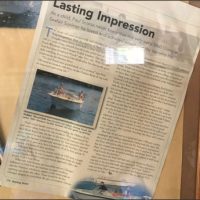 Below is a picture taken on a day when the whole fleet was afloat. It looks like a lot of friends and family having lots of fun!

"My favorite thing to do is go out with my wife and take a nice early evening cruise on one of my restored oldies."

Welcome aboard! Good advice from the other guys. If you post motor questions under the specific section, it helps the experts find you. I have received lots of help. Something you should mention when you ask questions is to tell them if you wish to do all work yourself and give them a hint as to how much previous mechanical experience you have in your past that you can draw from. This can help them tailor their answers to your needs. Some choose to find someone who can do certain parts of fixing, tuning, etc. and there are a few around your region that could perhaps help with a repair… and then there are several active Merc professionals that can answer any question I have ever posted…. And many other 2-stroke outboard gurus that can help troubleshoot general outboard problems. They got me on the water so quite confident someone can help. The more clear pictures and explanations you can post, the quicker and easier someone can get to the issues you might have. Good luck. p.s. I am not your expert, but love old boats and I am an expert at posting pictures that are sideways or upside down sometimes.

Welcome aboard Andy you did come to the right place. Like 63 Sabre said go to the Merc section there's a lot of help there. I would start a new thread their and you'll get a lot of help on there. Great motor by the way.

Bob
Boy did you ever come to the right place.
There are experts here, repair guys and wrench turners that specialize in Mercs, OMC, glass repair etc.
Stay tuned. Page down to the Merc threads and you'll see more information than you can absorb and all in understandable terms.
Lots of guys here from the Midwest. Wis, MN, Ill, and a couple youpers for flavor.


welcome aboard

I recently purchased and all already is an all original 1957 glass craft Imperial with I believe a 1957 Mercury mark 78 Tower of Power that I would like to Shine up and get her hummin like it was 1957, Is anybody with any knowledge of the motor or bold I would love to hear All they know I'm located in the Saint Croix river Valley Between Minnesota and Wisconsin If anybody Has some hot tips they'd be willing to share let me know
Hi my name is Wes and I am a boataholic ! Need to get connected with someone to advise me on how to restore my Srv-190 interior