Welcome to FiberGlassics®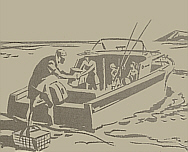 In July 1998 this site began an attempt to recognize the style and creativity of the original fiberglass boat designs from the 50's & 60's, plus capture the spirit of a time that has since past. This site honors the pioneering minds that conceived and created these beautiful, never to be made again, classic fiberglass boats. 

Within this site, you will find information on classic fiberglass boats. There are many sections. All libraries, pictures and information are FREE. Enjoy your time here.
Read more: Passion for Old Boats can be Addictive and Contagious

Welcome aboard! Good advice from the other guys. If you post motor questions under the specific section, it helps the experts find you. I have received lots of help. Something you should mention when you ask questions is to tell them if you wish to do all work yourself and give them a hint as to how much previous mechanical experience you have in your past that you can draw from. This can help them tailor their answers to your needs. Some choose to find someone who can do certain parts of fixing, tuning, etc. and there are a few around your region that could perhaps help with a repair… and then there are several active Merc professionals that can answer any question I have ever posted…. And many other 2-stroke outboard gurus that can help troubleshoot general outboard problems. They got me on the water so quite confident someone can help. The more clear pictures and explanations you can post, the quicker and easier someone can get to the issues you might have. Good luck. p.s. I am not your expert, but love old boats and I am an expert at posting pictures that are sideways or upside down sometimes.

Welcome aboard Andy you did come to the right place. Like 63 Sabre said go to the Merc section there's a lot of help there. I would start a new thread their and you'll get a lot of help on there. Great motor by the way.

Bob
Boy did you ever come to the right place.
There are experts here, repair guys and wrench turners that specialize in Mercs, OMC, glass repair etc.
Stay tuned. Page down to the Merc threads and you'll see more information than you can absorb and all in understandable terms.
Lots of guys here from the Midwest. Wis, MN, Ill, and a couple youpers for flavor.


welcome aboard

I recently purchased and all already is an all original 1957 glass craft Imperial with I believe a 1957 Mercury mark 78 Tower of Power that I would like to Shine up and get her hummin like it was 1957, Is anybody with any knowledge of the motor or bold I would love to hear All they know I'm located in the Saint Croix river Valley Between Minnesota and Wisconsin If anybody Has some hot tips they'd be willing to share let me know
Hi my name is Wes and I am a boataholic ! Need to get connected with someone to advise me on how to restore my Srv-190 interior
This is a shot of the original FiberGlassics site, circa 1999.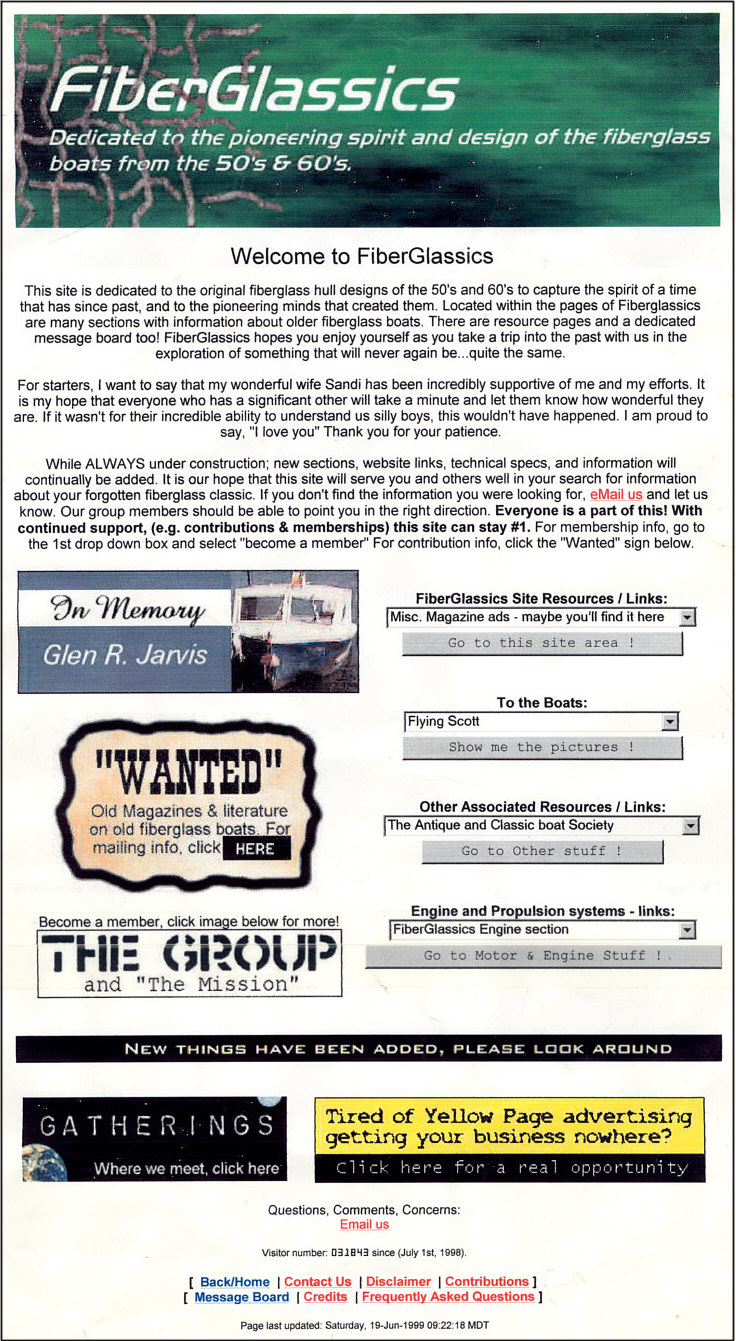 The windshield on my Lake N Sea was beyond salvage-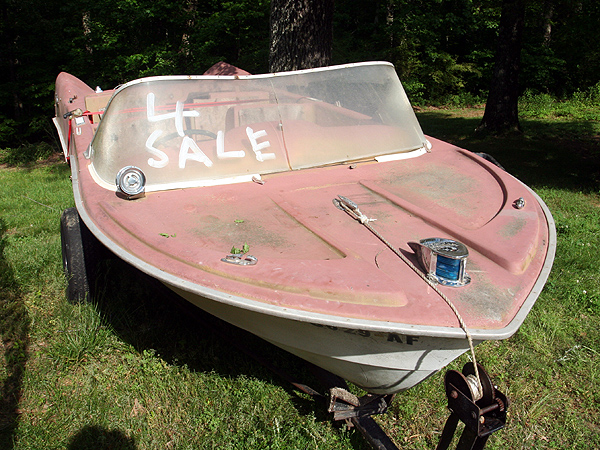 I looked for a replacement, without luck. So, I decided that I would have to make one.

The old one was acrylic- 1/4" thick. Making an acrylic windshield would require heat bending, and since I don't have access to an oven large enough to heat a part that large, and trying to do it with a heat gun would be tough. So, After doing some research, I decided to try to use Polycarbonate instead. Polycarbonate is stronger, and more flexible. With the extra strength, a thinner sheet can be used, which will conform to the curves better.