A plethora of new features! Here's a quick guide to getting started: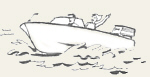 Login, or create an account
Edit your profile (left, User Menu, "My Glassic Profile"), fill in information about you including selecting the boats that you own and upload photos to "My Boats".
If you want your boats to show in the scrolling menu on right, edit your profile and enable gallery plus Access Mode should be set to "Allow Public Access".
If you have questions, look in the forums for technical support.
We encourage you to become a contributor to this site. You can submit articles to appear and also become an Editor in the Library(wiki). As this is an interactive site, feel free to submit content through the "Contact Us" link on the left.
Go to the Library and find the brochures!
Somewhere along the creative canal in boating evolution, someone was bound to come up with an idea that just breaks all the rules... and begs the question: What the float?

Now, we've seen some motors pushed forward as seen by the folks at Hupp engineering and many others in that elusive attempt at faster planing... but this has to take the cake.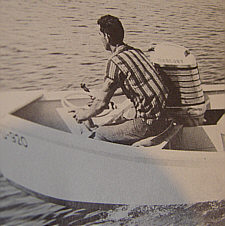 Now, let's think about this for a moment. What's the plan here? Put the motor up front, Check. Go fast, Check. Turn, Check... Get thrown out of the boat while the craft makes a nice side-step towards better waters?

Um... Yea.

We catch up to our hero JACK here in kat-fishun country where he's testing out his new idea in boating, the Katfish Kecher 2000! For this historic moment, Jack has chosen the largest outboard (or is that inboard) of the day, the Dockbuster. "Yep, She's more than 200lbs, 6 cylinders, 3 carbs... 70 horsepowers of rip-snortin' 2 stroke tower o' power! Heck yea, she weighs more than the boats does... Ewwwweeee!" Jack said.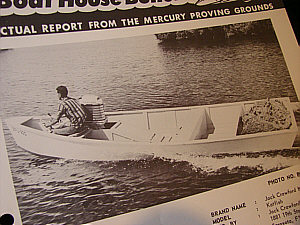 Eye witnesses claimed that there were passengers in the craft but all fell overboard. Only Billy Sue made it to shore to tell the tale. She said they gots dizzy when Jack gave 'er some gas. (probably something to do with exhaust inhalation... who knew?)

Local bait...  Um, shop owner, Bessy Ann Cooter, said she thourght that Jack tried to turn around and help them but when he did, catastrophe struck.

The next day, a local paper reported a ghost boat traveling at a high speed. Evidently, it cut through a fish hatchery and did a number on many catfish.

The boat was last seen heading deep into the swamp at high speed and Jack was reportedly eaten by Chompy... the local swamp thing.

Until next time, this is back road reporter Kal saying "watch out for the floaters."


Welcome to FiberGlassics®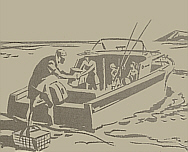 In July 1998 this site began an attempt to recognize the style and creativity of the original fiberglass boat designs from the 50's & 60's, plus capture the spirit of a time that has since past. This site honors the pioneering minds that conceived and created these beautiful, never to be made again, classic fiberglass boats. 

Within this site, you will find information on classic fiberglass boats. There are many sections. All libraries, pictures and information are FREE. Enjoy your time here.
We define FiberGlassic as  a Classic Fiberglass Boat designed and built from  the  50s and 60s  Our goal is to promote the restoration and enjoyment of these unique craft.
Here you can…
·        Find information about a specific boat
·        Learn the history of the use of  fiberglass in boat construction
·        Discover fascinating stories about the manufacturing pioneers who made them.
·        Learn the methods and techniques used to restore a fiberglass boat
·        Meet a terrific group of people who share your interest and enthusiasm
·        Share the knowledge and skills that you bring to the table
The last point is perhaps the most important. This hobby, and this site, can only grow and thrive if everybody contributes.
It might be a brochure or manual, a story about a boat from your past, a new source of parts or supplies, a skill or technique brought from another endeavor…the point is, just because a person hasn't been restoring fiberglass boats for the last 20 years doesn't mean they don't have a valuable contribution to make!