Brad Lake's Meteor and Glass Slipper
Take 1st and 2nd at World of Wheels Show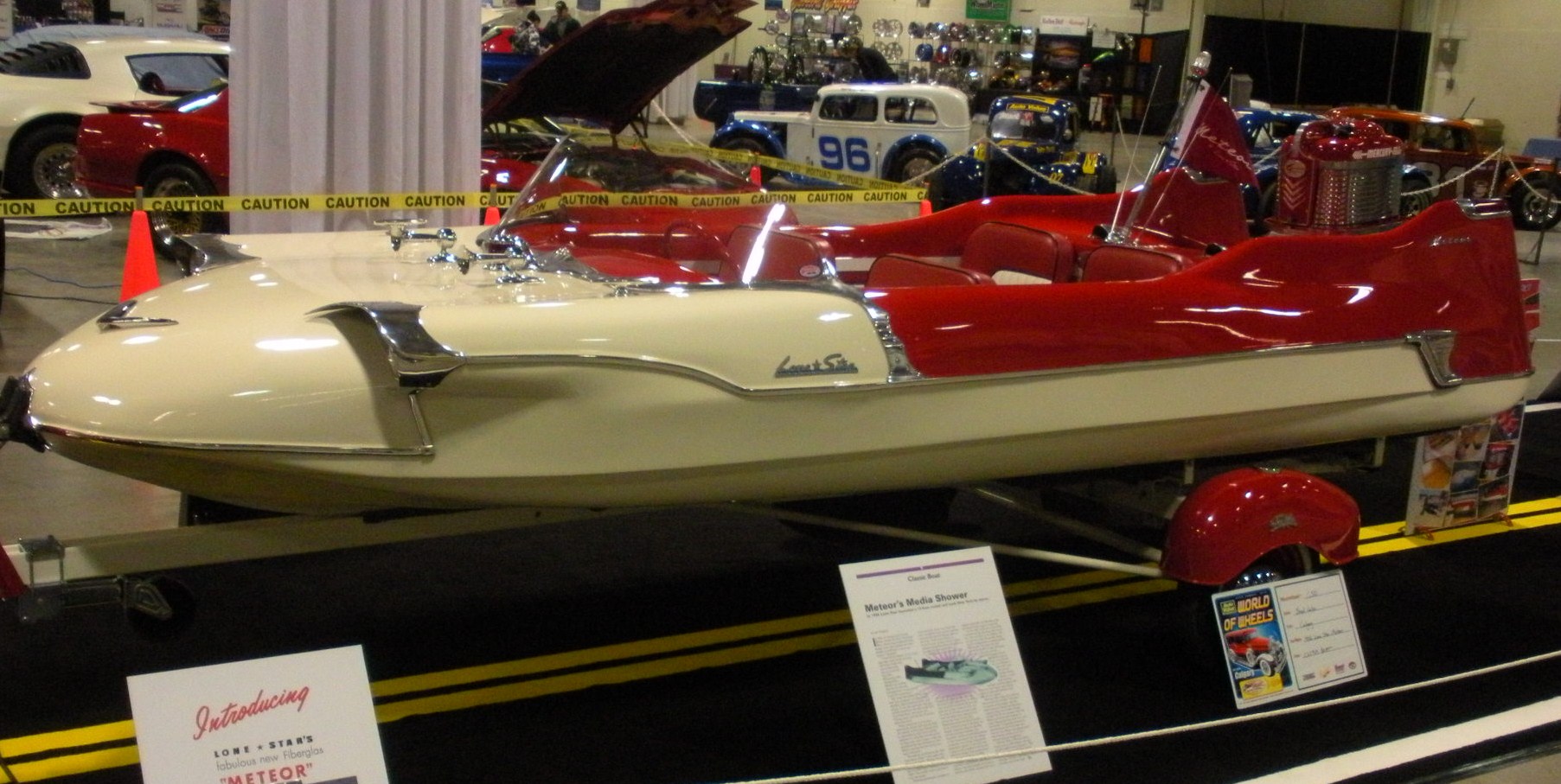 When the World of Wheels car show reached Calgary in 2010, Brad Lake had a surprise waiting. Behind his fully restored 1956 Corvette was a color matched, perfectly restored, and equally beautiful 1956 Lonestar Meteor.
For most of the attendees at the biggest car show of the year, it was their first glimpse of a restored Glassic.
Five minutes after the doors opened, Brad had a crowd around his combo that didn't let up until the doors closed again three days later. By that time Brad's Corvette and Meteor had walked away with the coveted Best in Class award.
Three weeks ago, the World of Wheels came back to Calgary. Again, Brad had a surprise in store. This time, in addition to his Corvette and Meteor Combination, he brought with him his newest labor of love, a 1959 Glass Slipper.
Again he won Best of Show, this time for the Glass Slipper. His Meteor from the year before had to settle for second place.
In the ultra competitive world of classic car shows, entrants can no longer rely solely on the car alone. Without a classic trailer or a classic boat in tow to complete the package, they just can't compete anymore.
So who is Brad Lake and how did he get his hands on two of the rarest and most prized  fiberglassics? Like many of us, Brad is a relative newcomer to the world of classic boats, though his passion for owning and restoring classic muscle cars goes back more than 35 years.
He got his first classic car when he was 16. He restored it and he's never looked back. Since then he's restored a Harley Davidson, and now has a collection of restored Camaros to complement his Corvette.
With his training as a licensed light and heavy duty mechanic and his job as General Manager of a factory, the nuts and bolts of car restoration came easy to him. Boats on the other hand...
He first came across a Lonestar Meteor in photo on Kevin "KevFin" Mueller's website www.BoatsInTheBelfry.com and knew he had to have one. With all that chrome and dazzle, the unique lines of the Meteor and its rarity, it would be the perfect complement to his '56 Corvette.
Deciding on a boat was the easy part. Finding one became the real battle. There weren't many made and most of them are simply not for sale and may never be. It took Brad four months of research, phone calls, and more than a little pleading before he was able to convince an owner that, if sold to him, it would be lovingly restored.
All he would have to do is drive to a foreign country, purchase the Meteor, and then get it back over the border and convince Homeland Security his new oddity wasn't some sort of vintage assault weapon. Actually – and I say this for all the Canadians reading this – the only problem getting back to Canada was having to answer all the questions from the crowd of curious Mounties trying to figure out what it was. It turns out, any boat older than 15 years isn't liable for the import taxes for our neighbors to the North.
With the boat safely parked in his garage, Brad's new concern was, "Where do I start?" His experience was with cars, not boats. He had no experience with transoms, stringers, cored floors, or any other of the common issues with boats.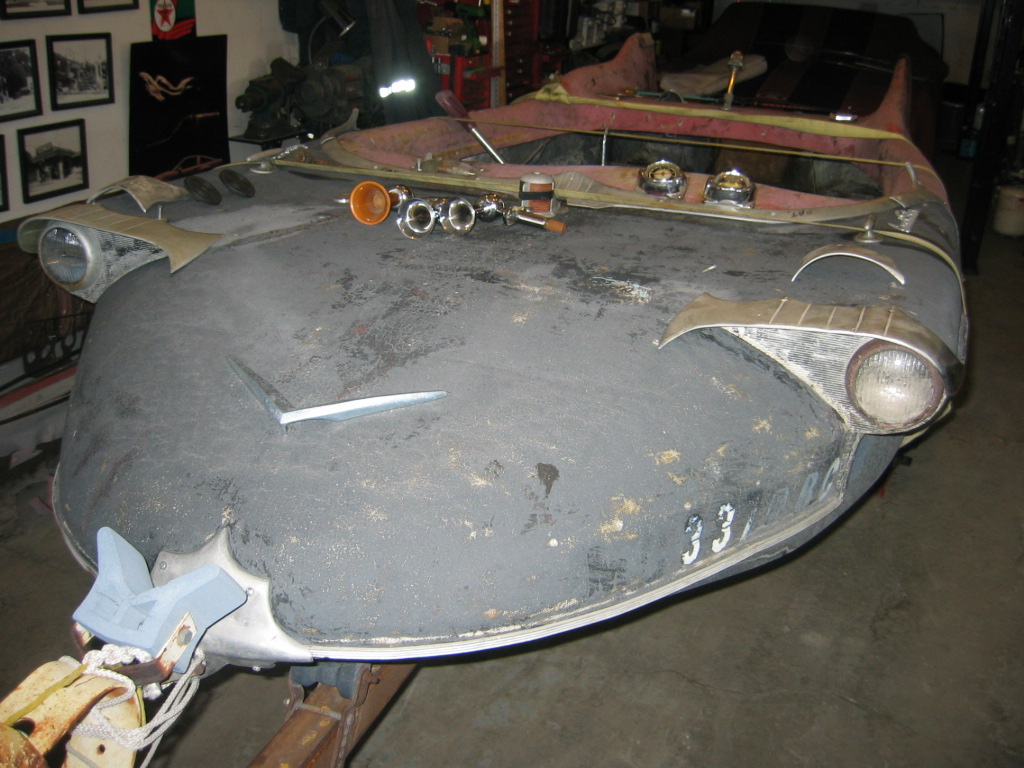 A tired and rare glassic
It was time for more phone calls.
The next seven months of Brad's life was a boot camp of boat restoration. With the help and encouragement of his daughter Erin, his son Mitch, and his wife Christine, together they spent every free minute working on this alien craft. "My 12 year old son, Mitch, was the driving force," says Brad. "I'd come home from work tired and just want to sit down, but he would already be in the garage yelling for me to hurry up."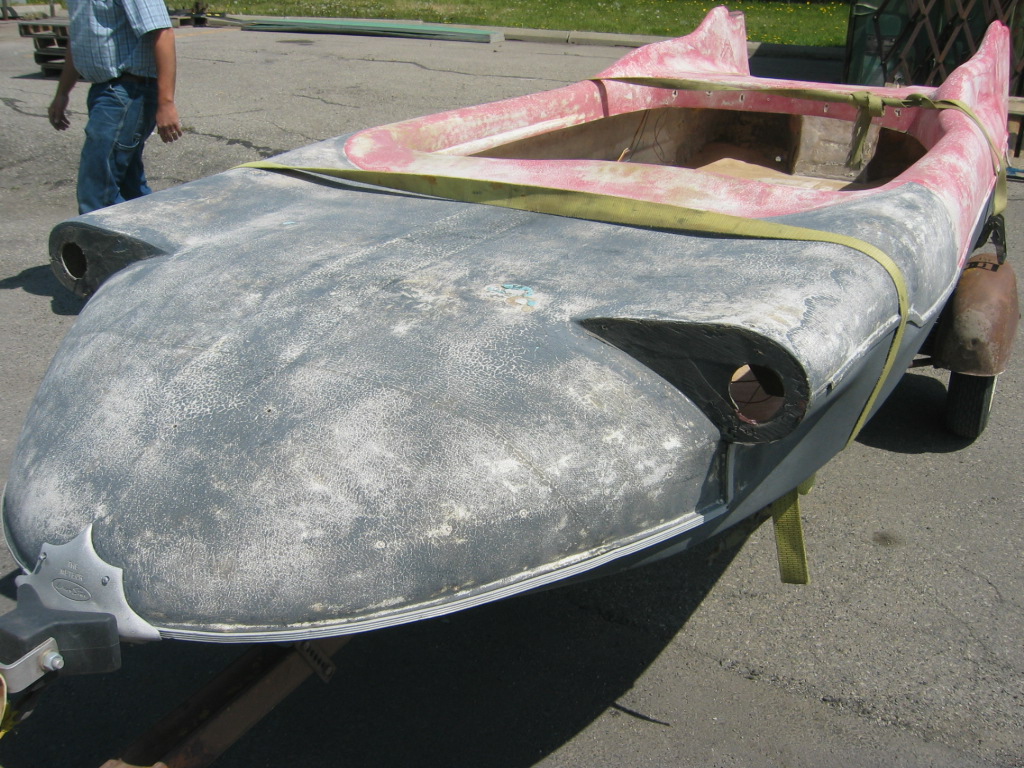 Brad's Meteor stripped and ready to restore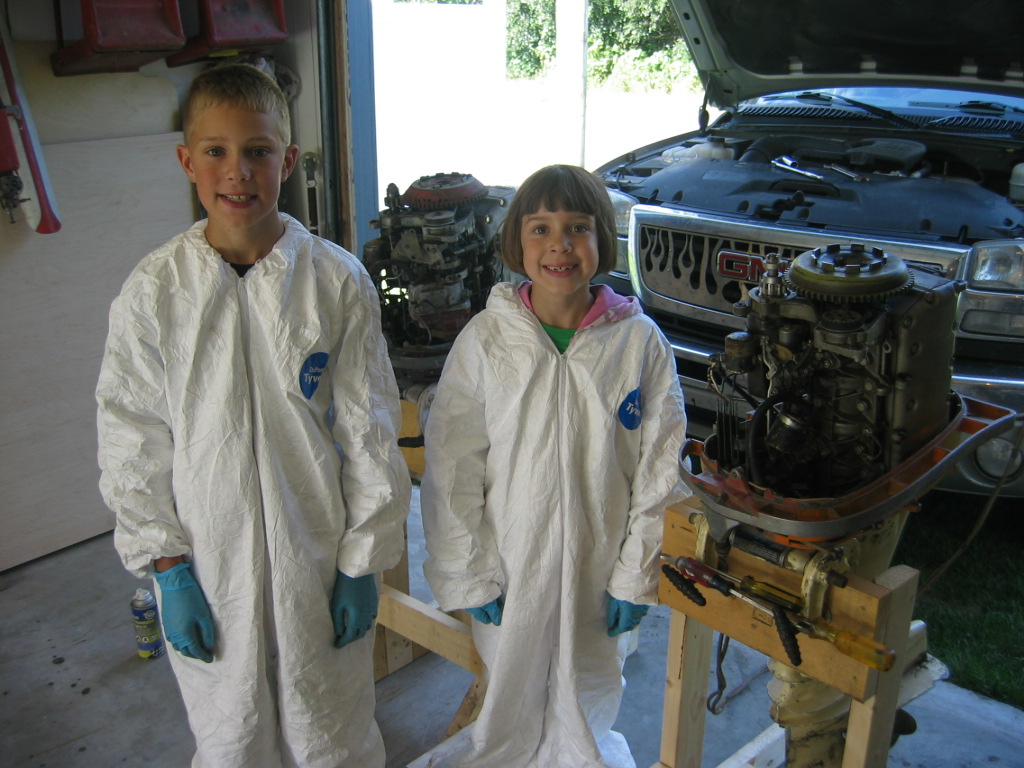 Mitch and Erin at home in the shop

Slowly, and with the methodical precision of a man whose used to such daunting tasks, the boat began to take shape. First the structure, then the finish, then the interior. "I didn't have a lot to go on with the interior," he said. "In all the photos and brochures, they don't actually show how the interior is built or finished, so, like an archaeologist, I had to reverse engineer everything." With the help of some specialists he knew from restoring cars, he was able to re-create an interior that was hybrid of originality and personal flair.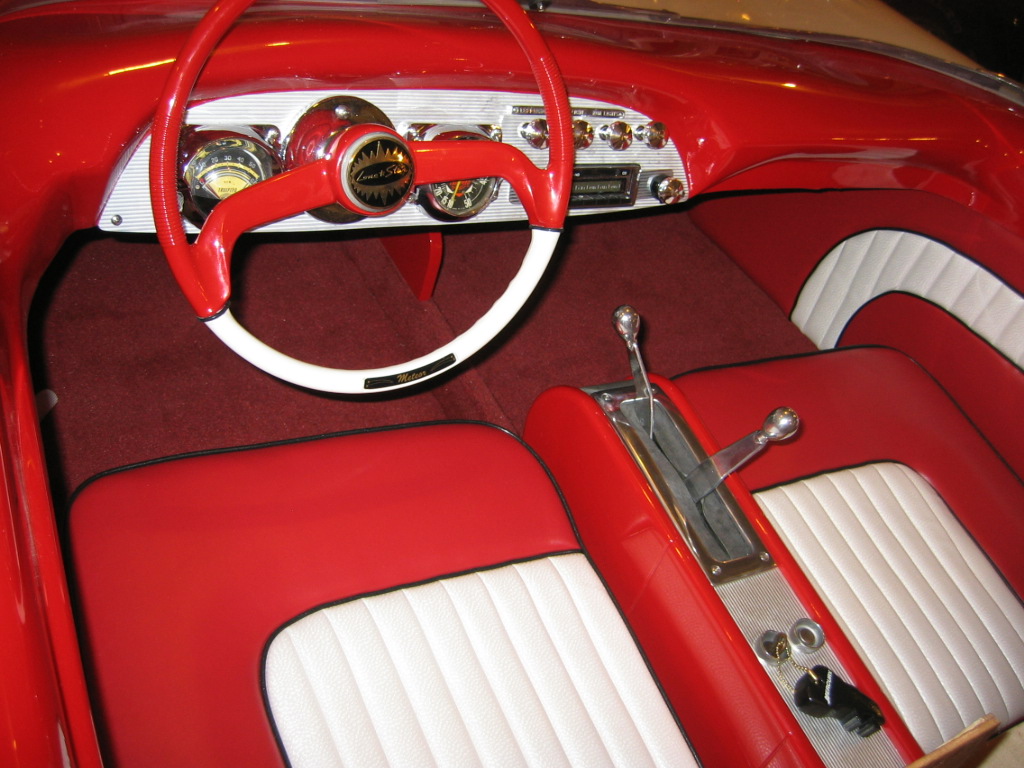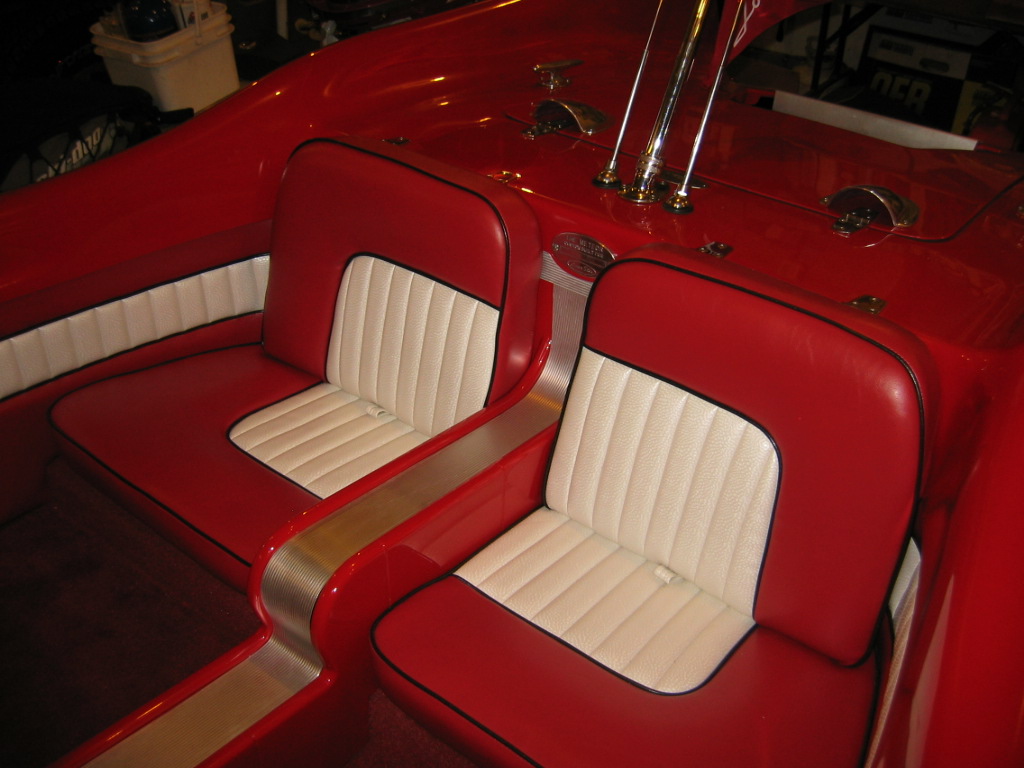 "We worked on the boat until the week of the show. It took every minute to get it done in time."
The show, the biggest in Calgary, should have been his time to sit back and enjoy the fruits of his labor. Of course it wasn't. "We must have had between 20 and 40 people surrounding the boat every minute of every day until the show ended. My wife (Christine) and my daughter (Erin) spent three days answering a million questions from a million people"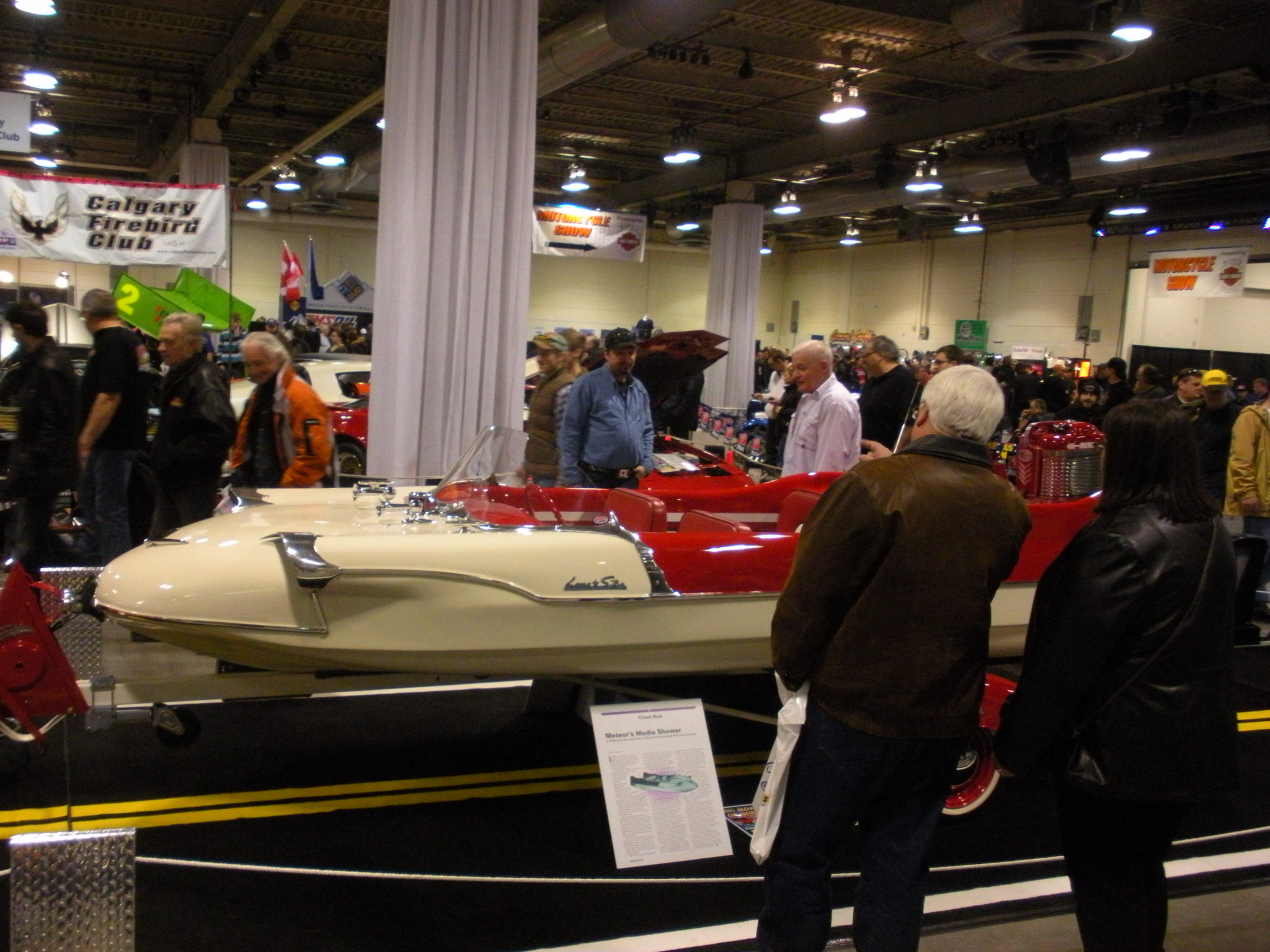 For most people, the process of finding a boat, restoring it, showing it, and winning 1st place would be the achievement of a lifetime. One they could look back on fondly and contentedly for the rest of their lives. Brad is not quite like the rest of us.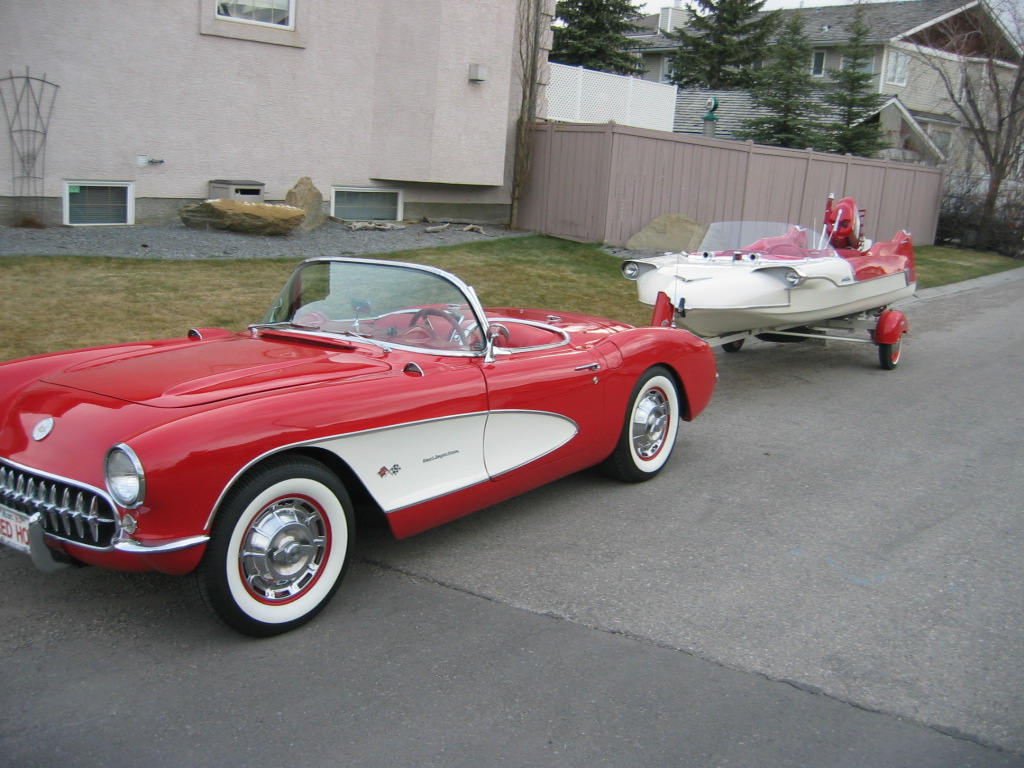 Five minutes after winning the Best in Class, he was already searching for his next project. "I'd seen pictures of the Glass Slipper," he said... You know what happened next. Another round of phone calls. Another round of pleading. Another trip across the border. Another half a year of grinding, sanding, repairing, wiring, priming, and painting, and there he was on the concourse floor, family spread out like sentries, answering all questions and basking in the looks of incredulity.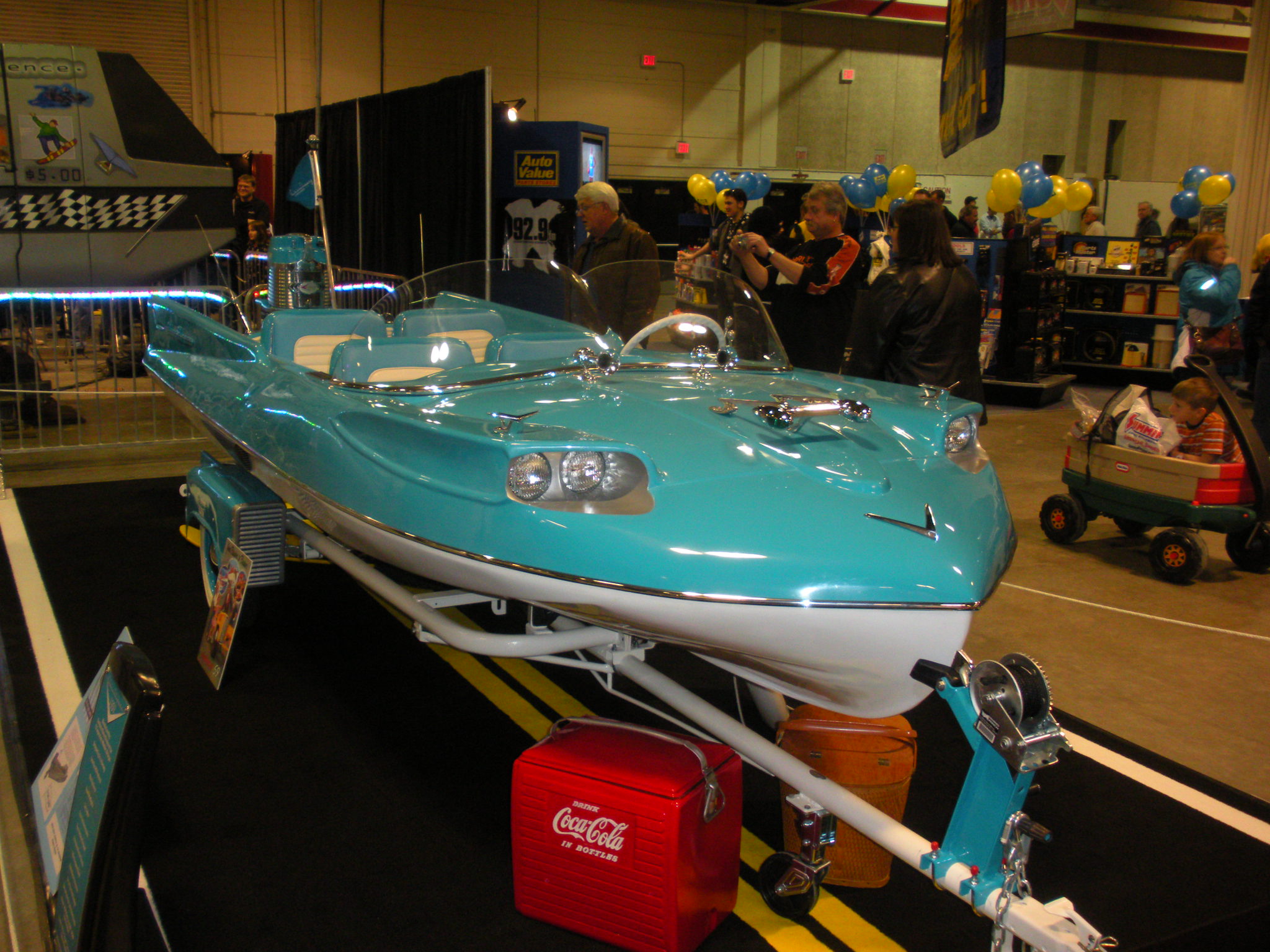 Another Best in Class, this time with a 2nd place prize to boot.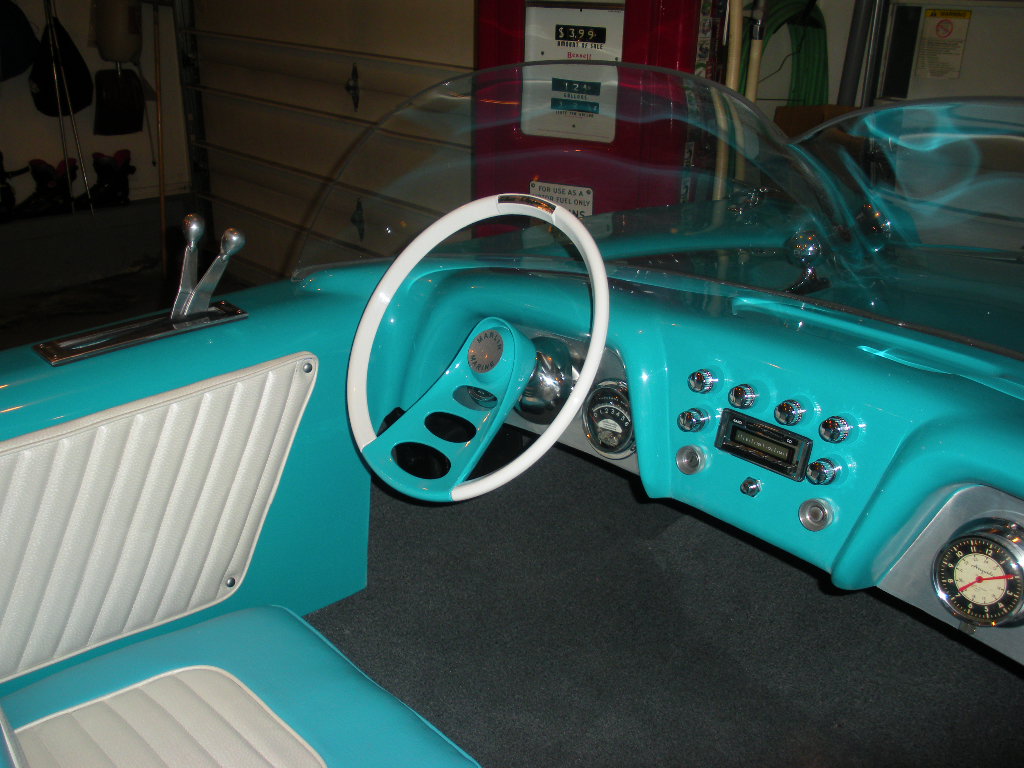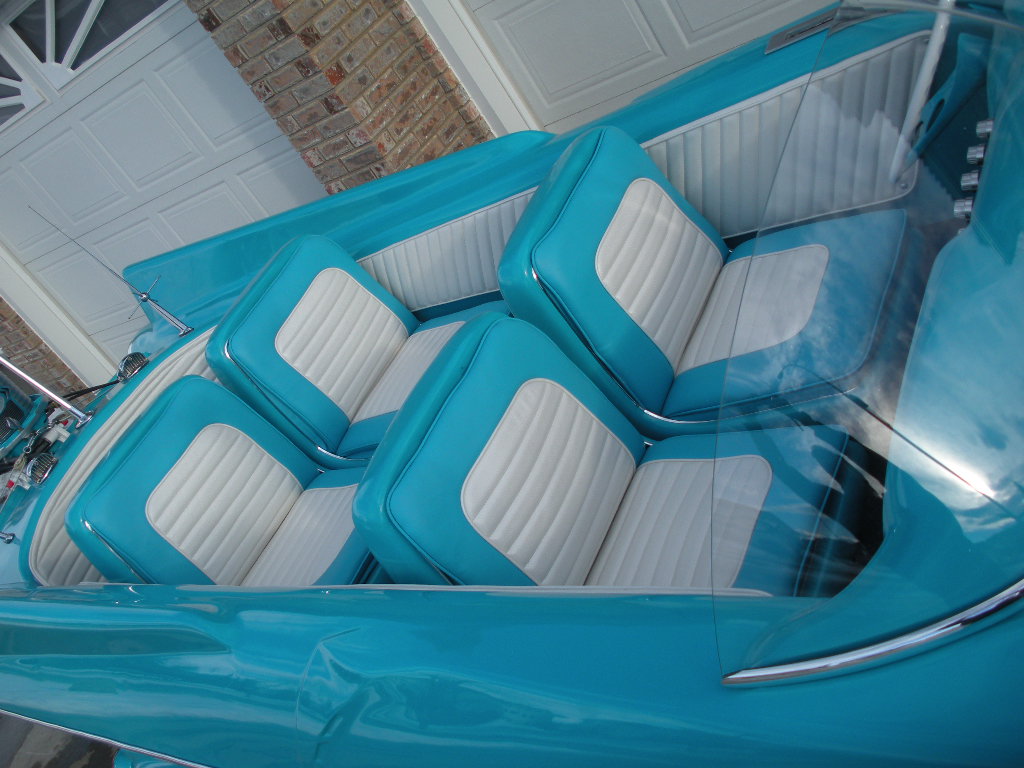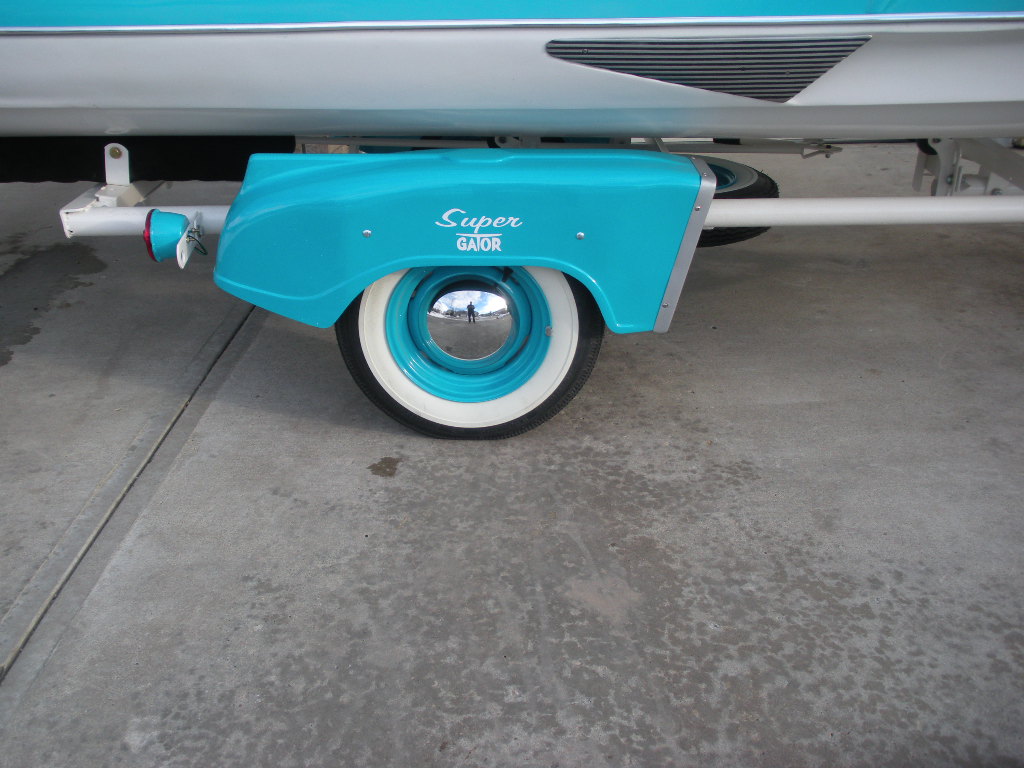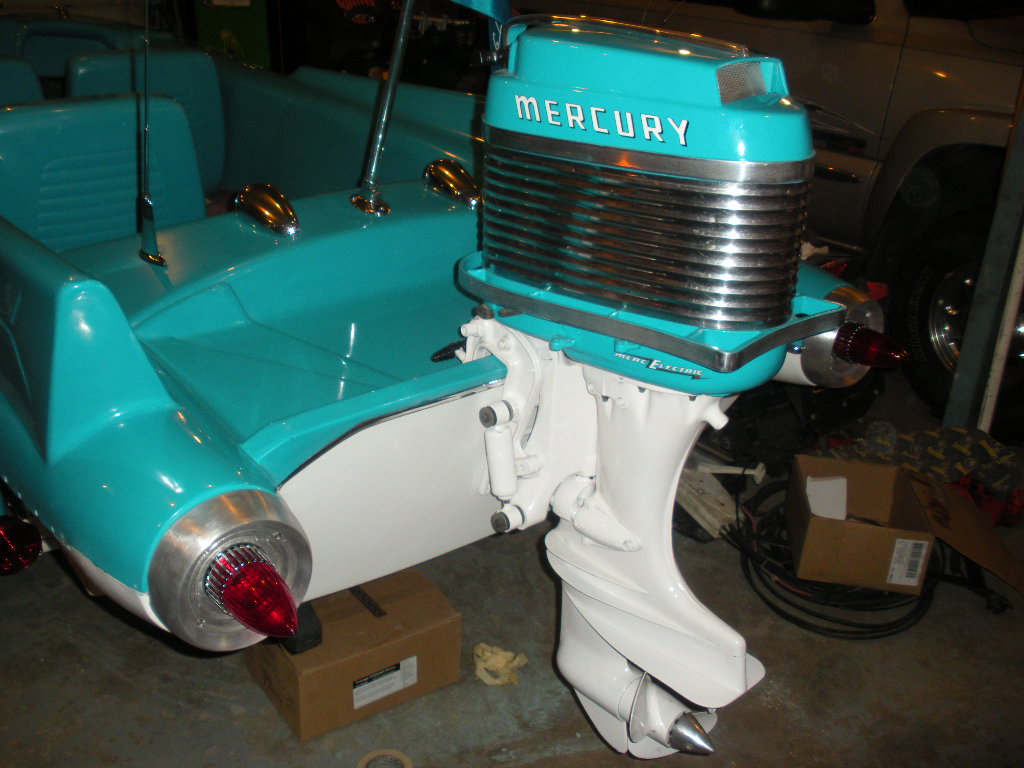 In the last two years, Brad Lake has propelled himself to the forefront of fiberglassic aficionados. His work is simply superb, his boats are among the most coveted of all, yet, through it all, he remains a humble man who cares more about spending this time with his family and giving them the lion's share of the credit than the prestige of any award.
"So what's next?" I asked him.
"I got my hands on another Meteor," he said. "I guess the first one is a trailer queen. I wanted another for my family to play with on the lake."
High resolution pictures of Brad Lake's Meteor and Glass Slipper can be found in the comments section at the end of this article.