Thom "Dr. Frankenmerc" Adams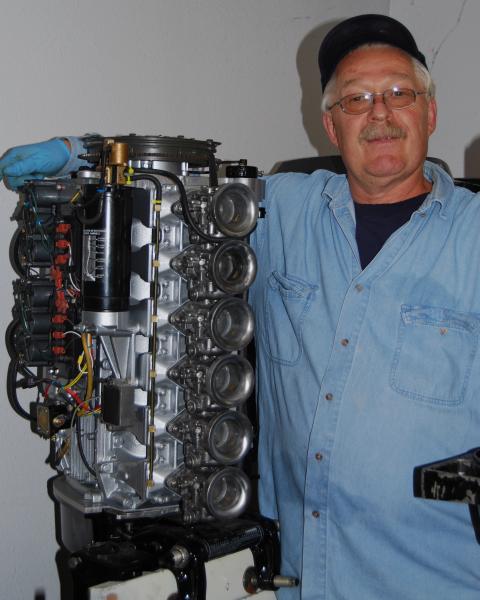 Over the past couple of months, I've had a chance to meet and get to know Thom Adams, more commonly known in these hallowed halls as "Dr. Frankenmerc".
In the Fiberglassics community, everyone knows him or knows who he is. Dr. Frankenmerc is widely held to be one of, if not the foremost authority on vintage Mercury outboards.
But at home literally everybody knows him. When we took a drive down to the local hardware store, he got a wave or a hello from every single person walking, driving, bicycling, or parasailing by. My first thought was that he should run for mayor. Unless he was running against Elvis himself, he'd be a shoe-in.
I like telescopes. The kinds of telescopes I like are big and expensive and extremely finicky and complex. There is a man known throughout the astronomical sphere as Dr. Clay Sherrod. He takes these incredibly complex and fragile things apart and rebuilds them. He is so meticulous in his work that there is a sometimes a years-long wait to have your telescope "supercharged" by Dr. Clay Sherrod.
To say Dr. Frankenmerc is the Dr. Clay Sherrod of the vintage Merc world isn't right. It's more accurate to say Dr. Clay Sherrod is the Dr. Frankenmerc of the astronomy world. Such is his reputation and respect.
What many of us don't know about him, is who he is in his day to day life. Not quite "Tuesdays with Morrie", but over the last month or so, I've had several occasions to be working on a project with him at his shop. In that time, I learned a lot about the man and his story. It's a story worth telling and, more importantly, a story worth hearing.
To say Thom is a family man is an understatement. He grew up in his hometown of Shelton Washington and, until his parents passing, lived four blocks away from them. He has four kids who all live close by and visit often. But he also has his extended family. Like the day laborer he hired twenty years ago who still comes by for a visit. Or his "adopted kids" across the street who rely on him like a father. Or the waitress with the nose ring and purple hair at his favorite breakfast place who sits down to share her latest ultrasound picture with him.
So, how does he meet all these people and get so close to them?
Thom is a cop.
For 30 years, Thom has been a police officer. He's been a beat cop and a detective. He's arrested drug dealers and murderers and all other manner of criminal. But if that brings an image to your mind of a hardened and jaded man, erase it. For the last eight years, he's been the Cop on Campus in his local school district where his focus has been on protecting and mentoring the kids.
In a world saturated with Law and Order, CSI, the Shield, and many many others, Thom Adams is more like Sheriff Andy Taylor than Ice-T. For 30 years, Thom has managed to bring calm and peace to his community by actively being a part of it and genuinely enjoying the people around him.
Until this Winter, Thom's routine of police work followed by spending time working in his shop hadn't changed for years. And until recently, he had no reason to believe it would change.
That was before he went in for back surgery to remove painful bone spurs from some damaged vertebrae. All in all, the surgery wasn't a huge success. It's been three months and the pain hasn't eased any. That's bad enough, but something else happened during his stay in the hospital.
Either during surgery or during his recovery, Thom's right arm sustained nerve damage. When he woke up, he found that his right hand had gone completely numb. He could still move it, but he couldn't feel anything.
Initially, the doctors told him it was likely to be temporary. With physical therapy and time, his feeling in his hand should come back, even if it's a slow process.
Thom's mind was eased, but weeks later, the numbness hadn't gone away. In fact, it had gotten worse. He was having problems holding onto tools. A screwdriver might simply fall out of his hand if he wasn't looking at it.
At first, Thom thought it might be in all be in his head. Maybe it wasn't getting worse. Maybe he was just more aware of it. Getting nervous about what this turn of events meant for his livelihood and his passion, He called the doctor who immediately scheduled Thom for an MRI.
The news wasn't good.
It wasn't in his head. His arm was getting worse. The nerves in his arm were deteriorating. He was referred to a specialist three hours away in Seattle. The specialist told him to stop his physical therapy until they could figure out why this was happening and how to stop it. He was given the hardest advice to follow; he was told to wait and see.
Meanwhile, Thom's other projects moved ahead. The demand for his services has only increased in recent years. His personal projects still had to be finished. He still had a job to do.
When Thom's deteriorating condition became known to the local classic boating community, two high school kids who lived an hour away, offered to come by and help him out in the shop. More than likely, they were part of his "extended family". I happened to be there that day and I got to see another side of him, up close and personal.
For eight full hours, these kids acted as his hands. He told them clearly and succinctly what they needed to do. Thom could see the looks of confusion and hesitation on their faces and, with a smile and reassurance, he quietly guided them.
All day long, he patiently watched and as he taught them how to free up a 50 year old frozen lower unit. By the end of the day, the unsure kids who showed up in the morning had been transformed. Helped along by Thom's good nature, paternal encouragement, and a large box of donuts, they looked like professionals by quitting time. One has to imagine that if the police force hadn't snagged Thom decades earlier, how he might have ended up perfectly suited as a teacher.
Of course, quitting time for the kids was just a late lunchtime for Thom. His neighbors have long since gotten used to the sounds of progress coming from his shop late into the evening. At 20 years his junior, I should have been able to work rings around him, but by 9:00 P.M. I had to throw in the towel.
As we sat in his garage after cleaning up the day's mess and preparing for the long drive back home, we got to talking about what the future holds for him.
"I don't know what I'm going to do," he said in a moment of candor. "If I can't use my hand, I can't be a cop. I can't work on engines..." Silence filled the garage as the weight of those words sank in. His ever present smile flickered just a bit.
I asked him if he could hire a right arm to help pick up the slack. "I can't see how," he replied. "I'm busier than I want to be, but there's just not that much money in fixing up old Mercs." Then he added, "It's also hard to make sure someone is doing what you need them to do."
I immediately thought about the two kids from earlier and how he spent his whole day patiently teaching them a skill they never knew they had. I thought about the "A-ha" looks on their faces when the seized relic they'd been working on finally relented and began to turn, slowly at first, but under Thom's watchful eyes, soon it was turning like a new factory motor.
I don't know what's in Thom's future. I don't know if his arm will heal or not. I don't know if he will ever be able to be a cop again, or if he will ever be able to work his magic on an old Merc unassisted again.
If he can't, then it is a profound loss to the fiberglassic community. He is sharp as a razor and has more intimate knowledge of the beautiful old motors we all covet than any man I have ever met, but his right hand simply will not comply. Not yet, and maybe not ever.
I wish there was a happy ending to this story. So far, there isn't. But the story isn't over yet. There are still doctors to visit, tests to take, and therapy to pursue. So hope springs eternal for the unofficial Mayor of Mayberry.
As I drove home through the night, I thought about what Thom said. How hard he thought it would be have a hired hand (literally) to teach. I thought about the kids in his shop. I thought about how everyone who knows him smiles and waves.
I don't think this is the end of Dr. Frankenmerc's magic. Even if he swears he'll never hire anyone. Even if they amputated both legs and both arms. The teacher, the mentor, the fatherly advisor in him will win out.
If the worse case scenario should happen; if he permanently loses the use of his talented hand. I have not a doubt in my mind that Thom will find the perfect student and teach him everything.
It's who he is.