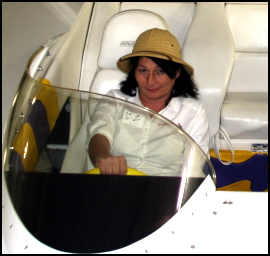 Heather Babecki, owner of Spookeay Marine in Coosa County, Alabama doesn't think twice about being one of the few women in a field absolutely dominated by men. In her twenty years of working on boats, she's learned that the best way to deal with someone who thinks her gender is a hindrance is to simply ignore it.
"If a wise man and a fool are arguing on a street corner, and you walk by; you can't tell which one is wise and which one is the fool," she explained. "It's not worth arguing about."
Heather's impatience for intolerance, as well as a mind uniquely suited to her profession, is the result of her childhood. With an electrical engineer for a father and a professional artist for a mother, she was raised in an environment that was a perfect blend of form and function. She was taught that her limits were only set by her abilities and not by her gender.
Supported by encouraging parents and a desire to test her limits, Heather has amassed an impressive resume that she doesn't think twice about. In our conversation, it came out that she can drive and operate front end loaders and excavators, she's a licensed pilot, she rebuilds her own engines, and she's a member of MENSA.
It would be easy for someone with such credentials to feel superior, but that's just not her. As most of us who have seen her youtube videos about her Sea Camper updates, or been on the receiving end of one of her smiling and supportive words of encouragement, know that she is a reliable friend and great source of information.
These days, no one questions Heather's ability. What started out in 2004 as a one woman operation on her farm has turned into a professional 2400 square foot boat repair facility, complete with two 8-ton boat lifts and a thirty foot paint booth.
She now works on everything from blue water yachts brought up from Florida, to Insurance claims from a thousand miles to the North. When she can, she finds the time to work on her growing collection of "glassic" boats. Luckily for Spookeay Marine, (and unluckily for the rest of us), her available time has been dwindling as her business continues to grow.
Her history with the boats we have all come to love; the big tail fins, the streamlined designs dressed up in chrome and vibrant colors, came to her late in life.
"I didn't discover Fiberglassics until 2007," she explained. "Rural Alabama in the 1950s and 60s had never fully recovered from the great depression. There wasn't a lot of money here back then and those boats were an unaffordable luxury. There weren't very many around here back then. On top of that, the weather here is hard on old boats. Of the few that were around, not many survived over the years."
But just because her history with glassic boats may not be as long as some, that doesn't mean her future won't outshine us all. When I asked about her plans for her Impala Craft Avenger, her response was, "I'm going to install a forward mounted engine and drive shaft for a rear jet drive, a convertible top, and a working hood," she said without skipping a beat.
I think she could hear my eyebrows raising.
"...and I want a Lone Star Meteor," she added.
Spookeay Marine is located in Coosa County, Alabama
spookeaymarine.com
(256) 404-1330
If you want her to work on your boat, well, get in line. So do I.