Forgotten Fiberglass and the Glasspar G2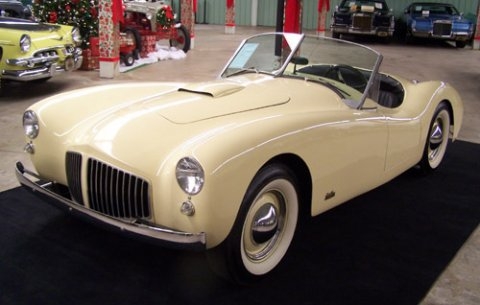 I recently had the pleasure of meeting Geoff Hacker of www.forgottenfiberglass.com. The subject matter of his website is one all fans of Fiberglassics® can appreciate; his research - and love - of the little known and short lived one-off fiberglass car craze of the 1950s.
When someone says "fiberglass car", the first image that comes to my mind is the Corvette. It's the one fiberglass car we all know. But like the world of Glassic Boats, if you dig a little deeper, you find it's history goes back a lot further and is much more colorful than a single hot rod.
In the early 50s, there was no history to fiberglass, no rules, no tradition. Fiberglass might as well have been a gift from benevolent Martians for all its limitless qualities to the avant garde designers of the day. These were the years that gave us the Lonestar Meteor, the Glass Slipper, and a host of other designs that seemed more rooted in imagination than tradition.

The 1958, Jim Webb designed "Savage"
At the same time, and with the same mindset, established companies looking to keep up with the times, new companies willing to take a risk, and backyard builders from all over the country started experimenting with fiberglass. Among those new companies willing to put all their eggs in a fiberglass basket was Bill Tritt of the Glasspar Corporation.
Most of us know Glasspar as one of the titans of early fiberglass boats. The Glasspar G3, a 13' thrill machine, has officially reached cult status among its owners, and helped cement Glasspar as an industry stalwart that still exists today.
But did you know Glasspar made cars?
In 1949, Bill Tritt was approached by his friend Ken Brooks to design a body for his hot rod V8 on a Jeep Willys frame. A year and a half later, the plug was finished and the first Glasspar G2 rolled off the line.
The G2 went into a limited production run for a few years, but ultimately ended in 1955. At that time, Glasspar was building 15-20% of all fiberglass boats being sold in the U.S. and they chose to focus on that market. Today, among the fiberglass car aficionados, the Glasspar G2 has the same cult like following as the G3 does for Fiberglassics® fans.
Glasspar wasn't the only maker of fiberglass cars in the heyday of Post-War America. There were hundreds of little known one-offs and experimental vehicles, and their designs were as strange and varied as the boats we all love.
I don't pretend to know the first thing about the fiberglass cars of the 1950s and, truth be told, I'm well outside of my comfort zone writing about them, but I would like to know more. For that reason, I'm happy to have met Geoff Hacker, and I'm even happier that he has done all of the legwork for me on his website. It is rich with history, and he is a prodigious writer and well-schooled fanatic. I look forward to his upcoming book; Forgotten Fiberglass