Thom "Dr. Frankenmerc" Adams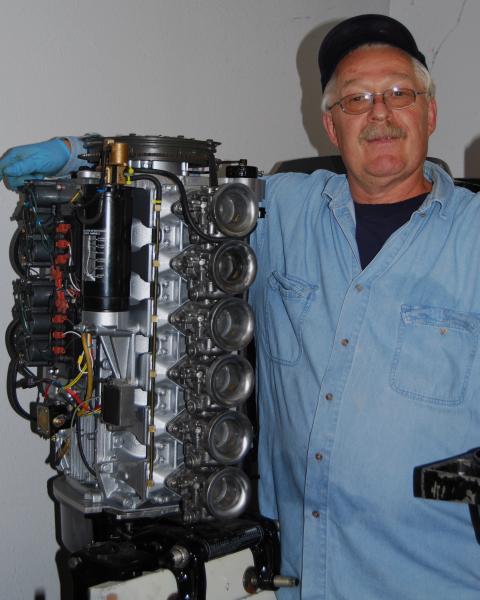 Over the past couple of months, I've had a chance to meet and get to know Thom Adams, more commonly known in these hallowed halls as "Dr. Frankenmerc".
In the Fiberglassics community, everyone knows him or knows who he is. Dr. Frankenmerc is widely held to be one of, if not the foremost authority on vintage Mercury outboards.
There are those individuals who insist on dazzling us with their superior boating and navigational skills. You know them, we all do. Those masters of modern boating who believe that the very laws of physics bow to their every action while cruising our local waterways. This particular writing is in honor of just such an individual.
Mooring your boat at the marina presents many potential photographic moments. High winds, mechanical problems, or bad planning can cause all sorts of problems. Note that the first time you have a problem with mooring your boat; someone will appear out of nowhere to take your picture. It will probably be me!
I have a friend that is a commercial fisherman. Many fishermen love to make dramatic arrivals at the dock, demonstrating their superior skill and seamanship. My friend performed just such a classic fisherman's arrival. This involved approaching the slip at a high rate of speed, keeping the engine speed up and slamming the transmission into reverse to stop the vessel perfectly in its slip. Approaching the dock, my friend was looking good, until the shift lever snapped off in his hand from his rapid pulling action. His sixty-foot commercial fishing vessel plowed half way through the new dock causing $30,000 in damage. The erstwhile skipper now has his slip personalized with a marker that reads Captain Crunch.
So in the event you feel like you want to impress us with your most impeccable navigational skills, I only ask one thing. Call me a day ahead so I can have my boat located far from you, and my camera in hand and ready to click!
Happy mooring!
The search for a Meteor by Kevin Mueller.


The Carp DeVille

A visit to the Lunatic's FRIDGE

Tales are told, of characters met while collecting. Some speak past a single tooth, clutching a snarling junk yard dog, slurring each word with great concentration, standing as though distracted, angry, a pool of crimson flowing from the darkest corner of the garage, crimson dripping from the end of the wrench clenched tightly within a trembling fist, crimson, smeared upon tattered clothes, soaked into unkempt hair, dripping, dripping, "That is just transmission fluid isn't it!?!"

Yet no tale could be so chilling as the tale of Blackbeer, Bill Blackbeer the third! (alright, so the names have been changed, but I swear that's close!)

I once saw an ad. for a Lone Star Meteor in a copy of Hemmings Motor news. I was proudly displaying my newly restored Glastron at a car show, when a guy named Lenny came up to me and said "How would you like to buy a boat with tailfins and a pair of headlights that make it look like a big ol frog?" You have a Lone Star Meteor, I asked, recalling the photo in the ad.

I passed on it of course, having been much smarter at the time!
As summer arrives, the endless antics of the launch ramps across this great country provide the best entertainment a guy could ever want. I for one would pay to see some of this stuff, but due to my inability to be in all places at once I will use the word off the street to bring it to you. Now with that said, let me provide my one and only disclaimer. All stories come from the public domain and are to the best of my knowledge not copyrighted. Should anyone claim a story as their own, I will promptly remove it from the site (after we all get a good laugh). I will do my best to screen it before I write it.

Read more: The "Real" Dockbuster Revealed - News from Mayhem Mike!